Welcome to the Lost At Sea Scavenger Hunt where we are helping the Kinsman people find a new home. If you've just found us, be sure to start the adventure at Stop #1, which is Jill Williamson's blog.
Collect all the clue words in order so you can enter to win the Kindle. If you want to enter to win the second Kindle, you'll have to take a quiz at the end, so take your time and read each post carefully. The main prizes in the hunt are open to international entries. Individual author contests, however, might have different rules, so please read the parameters on each site. You have until Sunday night,

February 19

, at

midnight

, Pacific time to finish.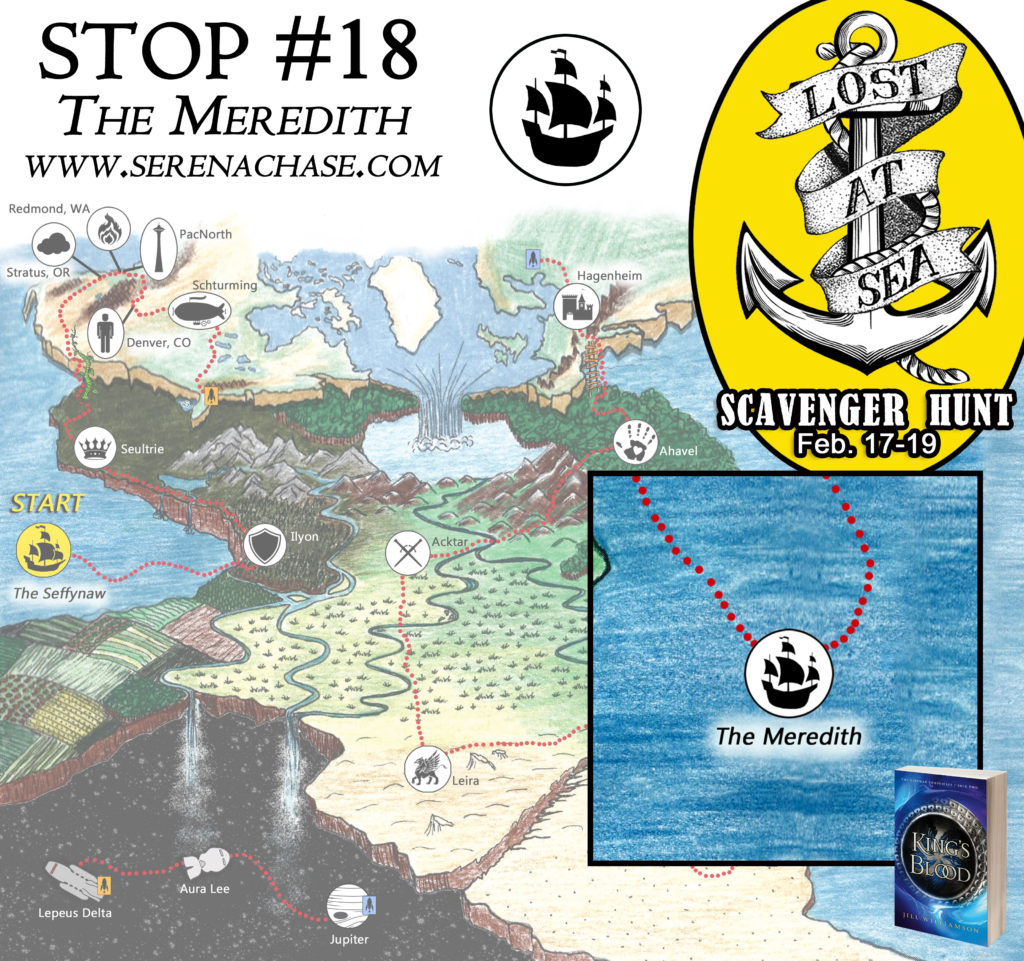 Word City was too wild a place to build a new city, so Wilek, Trevn, and their party went down to the docks where they caught a ride in Stop #18, the pirate ship Meredith, from Serena Chase's novel The Seahorse Legacy, the third volume in the Eyes of E'veria series.
Serena Chase lives in Iowa with her husband, two daughters, and a white goldendoodle named Albus. She is the author of the Eyes of E'veria series (fairy tales, reimagined and mashed-up as epic fantasy adventures) and of Intermission, a contemporary YA coming-of-age romance. Visit serenachase.com to sign up for her newsletter, purchase signed copies of her books and posters, and/or join her crew (street team)
. 
Here's a closer look at
The Seahorse Legacy
, the third book in the
Eyes of E'veria
series:
As Keeper of the Seahorse Legacy, Cazien de Pollis is a King among pirates, divinely appointed to dispense justice on the seas. Bound by the sacred oath of a long-dead ancestor, he must fulfill a contract to wed the green-eyed Oracle's Daughter named therein—or risk losing everything he and his people hold dear. But at nineteen, with the identity of his betrothed only recently revealed, Cazien resents the contract—and the urgency within him to see it satisfied.
Erielle de Gladiel returned from the quest for the Remedy, changed. Not only are her formerly-blue eyes now a brilliant shade of green, but she must don gloves to hide inky evidence that her prophetically-bestowed title, the Oracle's Daughter, demands more from her than the task already completed. Erielle's dearest-held dream is realized when she is knighted by her King, but unbeknownst to her, that very honor jeopardizes the prophesied purpose to which she and Cazien have been called.
Just as Cazien summons the courage to collect his bride, dark rumors and darker deeds crawl up the coasts, calling its guardians, the Seahorse Pirates, into action—and Cazien away from Erielle. But even though the Oracle's Daughter knows nothing of the contract to which she has been consigned, Cazien's enemies have somehow learned of his interest in Erielle. And if they reach her before his ancestor's weighty oath is executed, the Seahorse Legacy will be forfeited . . . and darkness will be given reign.
The third book in this series-within-a-series, The Seahorse Legacy begins an epic tale of piracy, adventure, and romance. Giving subtle nods to several fairy tales, including an unexpected twist to the story of The Twelve Dancing Princesses, this romantic adventure concludes in Eyes of E'veria, Book 4: The Sunken Realm, available now.
How Certain Pirates Became the Good Guys (um… sort of) in E'veria
I first met Captain Cazien de Pollis within the pages of an early draft of my debut novel The Ryn (Eyes of E'veria, book 1), which later was divided into two books: The Ryn and The Remedy. In that early draft, Cazien was a smooth-talking villain and an enemy of the story's heroine, Princess Rynnaia. As is often the case with silver-tongued bad boys, however, Cazien captured my imagination. (What can I say? It was true in high school and it's still true today… though thankfully reserved for fictional bad boys now, which is much easier on the heart!)
As I continued revising The Ryn and The Remedy, Cazien refused to leave me alone. Eventually, I discovered that while he was most definitely a pirate, he operated under a Robin Hood-esque creed. Hmm… fun! Once that detail was firmly established in my head (and on the page), young Captain Cazien became a valuable ally to Princess Rynnaia… and a delightfully irksome presence to her noble protector, Sir Julien de Gladiel. The more I fleshed out Cazien's character, the more I adored that rascal and his heart of (somewhat tarnished) gold.
By the last several rewrites of The Ryn, Cazien–as well as the rest of the Seahorse Pirates and their flagship Meredith–had gained a legendary history rife with centuries of fearsome notoriety.  There was nothing for it but to upgrade my seaward bad-boy-who's-a-good-man to Main Character Status for the next epic, 2-book Eyes of E'veria adventure… and that's exactly what I did in book 3, The Seahorse Legacy.
You can order The Seahorse Legacy in ebook or paperback from Amazon, Barnes & Noble, or order signed paperback copies of any/all of my books from my store!
CLUE! Write down this clue:
his name.
Would you like to meet Captain Cazien de Pollis?
Before you move on, enter my giveaway! I am giving away a signed copy of
The Seahorse Legacy and an Eyes of E'veria series poster
 to one lucky winner. To enter, fill out the Rafflecopter, below:
a Rafflecopter giveaway

Thanks for visiting my blog. Enjoy the rest of the scavenger hunt!