Welcome to the Christian Fiction Scavenger Hunt! If you've just discovered the hunt, be sure to start at Stop #1, and collect the clues through all 31 stops, in order, so you can enter to win one of our top 3 grand prizes!
The hunt BEGINS with Stop #1 at Lisa Bergren's site.

Hunt through our loop using Chrome or Firefox as your browser (not Explorer).

There is NO RUSH to complete the hunt—you have all weekend (until Sunday, 11/6)! So take your time, reading the unique posts along the way; our hope is that you discover new authors/new books.

Submit your entry for the grand prizes by collecting the clue on each author's scavenger hunt post and submitting your answer in the Rafflecopter form at Stop #31. Many authors are offering additional prizes along the way!

It is my privilege to host talented historical fiction author Laura Frantz as my guest for Stop #22 of the Christian Fiction Scavenger Hunt this year. I first became acquainted with Laura's beautiful style of writing when I reviewed her captivating novel, Love's Reckoning for USA Today's Happy Ever After blog. Her next book, A Moonbow Night, is scheduled to release in January 2017.
Laura is here today to tell us about the inspiration for her book's title… and to offer a little excerpt from the book. But first, here is the book description, from publisher Revell:
From the beloved author of The Frontiersman's Daughter and Courting Morrow Little comes a new Kentucky novel…

On the vast, uncharted Kentucky frontier of the 1770s, Temperance Tucker has learned to be fleet of foot, accurate with her rifle, and silent about the past. But her family secrets complicate her growing attraction to a handsome Virginia land surveyor with a harsh history of his own. Will the hurts and hardships of the past prevent them from a fulfilling future?
With her signature sweeping style and ability to bring the distant past to vivid life, Laura Frantz beckons readers to join her in a land of Indian ambushes, conflicting loyalties, and a tentative love that meanders like a cool mountain stream.
What in the world is a MOONBOW?
Guest Post
by Laura Frantz

Ever since I was a little girl growing up in Kentucky, I've always been enchanted with the phenomenon of the moonbow, when mist and moonlight combine to create the night's version of a rainbow. Known to occur in only two places in the world, Cumberland Falls in the Daniel Boone National Forest is one of them. I never dreamed I'd someday include it in the story, A Moonbow Night.
Perhaps my hero and heroine explain it best in this excerpt below…
"A moonbow?"

She faced him again, drawn by his earnest query. "It's a wonderment, I'll give you that, if the signs are right."

"The signs?"

"A full moon . . . ample mist . . . patience."

He studied the sky. "Patience I have. The moon looks fair enough. I don't know about the mist."

She smiled without wanting to. He'd removed his hat and angled it over his heart. Whether deliberately or without guile she didn't know. The effect was the same. For a few lightheaded seconds she forgot her shift. Her tumbled hair. Her resistance.

"You could tarry awhile," he said.
Well, our hero does tarry and our heroine joins him in a wilderness adventure rife with real historical characters and real historical events from 1777 Kentucke. I so hope you enjoy A Moonbow Night!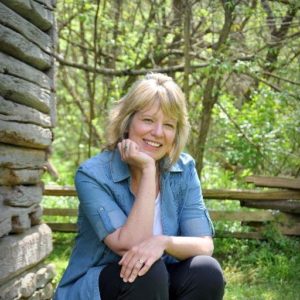 Laura Frantz is an award-winning author of eight historical fiction novels. She is passionate about history and writes her manuscripts in longhand first. She lives in a log cabin in the heart of Kentucky. Visit her at www.LauraFrantz.net, https://www.facebook.com/LauraFrantzAuthor and https://www.pinterest.com/laurafrantz/
Here's the Stop #22 Skinny:
Clue to write down:
Also, we
Before you go, check out this bonus giveaway from yours truly, Serena Chase!
One reader who enters via the Rafflecopter below will  receive: A travel mug, gourmet cinnamon tea (something the hero of my novel, Intermission, would adore!) and a signed paperback copy of Intermission,  as soon as it is available (it releases November 15th!) The winner will be announced November 7th 2016. Good luck! (Rafflecopter link/form below)